Lime mortar pointing is an integral part of the structure of older properties. Porous brick and stone needs to breath to avoid becoming waterlogged, lime mortar being less dense allows it to do so. Cement repointing can be incredibly damaging to brick and stone work originally set with lime mortar, as where lime mortar allows moisture to pass through it, cement mortar does not. Water and moisture must then pass through the stone or brickwork instead which can cause spalling, cracks in bricks, damp and rotten bricks and visible internal damp.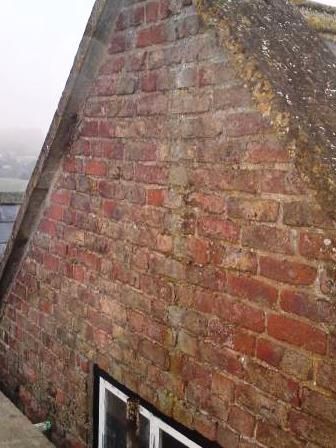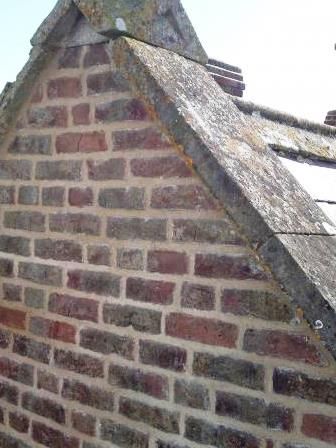 Traditional building construction is based on the use of relatively soft and porous materials such as stone, brick, timber and cob, together with a lime based mortar for bedding and plastering. These buildings usually have solid walls, with no cavity, and are often built on insubstantial foundations. They are therefore liable to settlement and movement associated with seasonal changes in the ground conditions. Lime mortar is softer and weaker than the stone or brick which it bonds and is therefore able to accommodate slight movements caused by settlement or temperatures without significant cracking. Also, it is permeable and allows evaporation of rising and penetrating damp from within the wall. It is this permeability, or 'breathing', which helps to keep the building dry inside without the damp proof course of chemical treatments.
Solid Masonry walls, where solid, must have their pointing maintained with lime mortar. It's composition allows the transmission of water and water vapour into and out of the building.
Conservation lime mortar repairs to old or listed buildings require a considered approach. Lime mortar can be mixed to different levels of porosity and strength, depending on the requirements of building. The original mortar may be defective or ill-suited to the current condition of the house and its surroundings, so it is important to gauge whether a different mix should be used.
There should always be a competent inspection of the current pointing work to establish and differentiate original mortar pointing and later repairs. Unsuitable re-pointing should be raked out if possible (cement can be very difficult to remove) and sound, original mortar should be left in place.
White concrete or dyes can be used by some contractors to imitate lime mortar. Unfortunately unless you are familiar with the correct texture, appearance and colouring of lime mortar, you may not know concrete has been used until you notice the symptoms. Spalling, accelerated decay most noticeable at the stone/mortar interface is one of the more common and most destructive issues caused.
Pointing is vital in keeping a masonry wall weather-tight and if done badly the results can be disastrous both technically and visually. Pointing is intended to be sacrificial so that it decays in preference to the stone or brick.